The UU drum is a new type of tongue drum with a unique two-tone tongue design that resonates in the octave to produce a sound with a more complete tone.The alloy steel drum body uses vacuum coating and engraving pattern technology to make the appearance of the UU drum bright and modern. 
It comes with perfect tuning,perfect premium percussion musical instruments. Unrivaled handmade design with incredible attention to details. A steel tongue drum with clear, warm, balanced, wooden overtones and a unique "dry" sound without the kind of distortion and metallic tones produced by other cheap steel drums.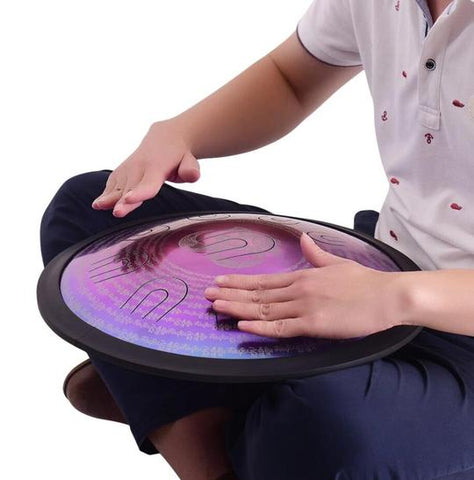 Alloy steel drum body adopts vacuum coating and engraving pattern technology, which makes the UU drum have a dazzling and fashionable appearance.is handmade by professional craftsmen.The sound is very pleasant and it is a kind of sound like Buddha's tones.The tongue drum has a adequate range of sound,Suit for a variety of fields,such as music education,percussion concert,mind healing, yoga meditation.
As a rhythmic instrument, UU drums can not only play with other instruments, but also independently. 
We firmly believe that there is no problem with our products. If you are not satisfied with our products. Please feel free to contact us by email,we will solve the problem for you as soon as possible .