Explore a whole new cosmos of sound with the Pan drum library. It includes six deeply sampled handpans and two tongue drums, which can be layered with instruments like a felt piano to create truly otherworldly sounds. Combined with intelligent sound design tools and playing features, Pan drum is an intuitive and modern sound library.
In addition to the materials and manufacturing methods used, the sound identity of a handpan comes from the tuner's work. Tuning is a delicate art. This know-how acquired over time is a guarantee of quality that allows us to produce reliable and powerful instruments today.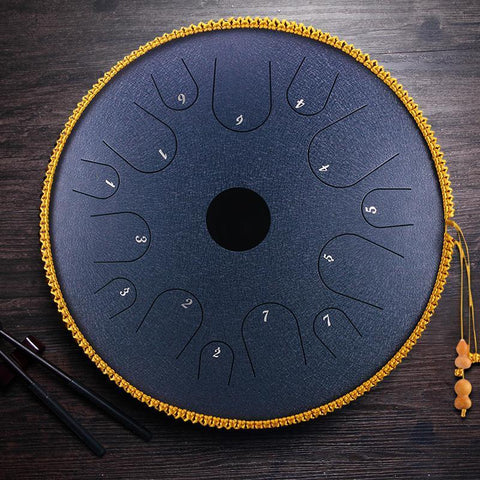 he HANG is a new steel instrument consisting of two spherical shells of steel, suitable for playing with the hands. Seven to nine notes are harmonically tuned around a central deep note which is formed by the Helmholtz resonance.
It can be played by hand or mallets. Playing it with hands demands higher standards of hands' power and more accurate tapping position, therefore using mallets is your first choice(especially for new). The sound under the mallets will be more penetrating, purer and more ethereal. Holding the mallet 1/3 and tapping the middle of tongue head, you will get the prefect sound. If some "noise" comes out when you playing it, it is mostly caused by tapping incorrect location. 
The Hang DRUM is a steel, disk-shaped, harmonically tuned percussion instrument that's played with the hands. It's incredibly sensitive and dynamic; the entire disk resonates at a central frequency as your hands move around the edge, teasing the notes out.