This is a wonderful and cool looking drum set to introduce music to youngsters and teach them to hand drum at a very reasonable price. The drum is very easy to learn and is a fun experience for musicians or children of any age. The drum looks to be made of very good quality and has everything you need to start off. May take some getting used to until you get the feel of the notes. The sound it makes is very nice and bright.
The steel tongue drum is made of steel-titanium alloy, accurately cut by professional craftsmen, and is equipped with shock-proof silicone feet and a sealed bottom to make the sound more pure.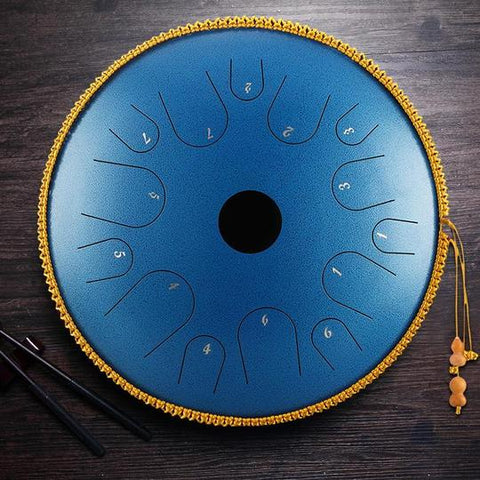 The steel tongue drum is equipped with mallets and music scores. As long as you practice more on the music scores, you can play a wonderful song whether you are a child or an adult. Cut with lasers for perfect tuning and checked by professional artisan, each "Lotus Leave" of the 13 tongues emits excellent resonance vibration and brings you pure, smoothing and peaceful sound experience from every single note hit. 13 note steel drum can be played with most common tunes, works better than 11-tones steel tongue drum does. 
It is easy to play, you can play it easily with the noted drum mallets or with you hands, and the note sticks will help you to make great sounds.Steel drum can produce a clean, ethereal, Buddha-like sound.just follow your heart to explore, and its ethereal sounds can purify your mind and soul, and makes you achieve inner peace.Bring to yoga classes, meditation groups, or the office. yet sings with pure, layered tones that rival much larger drum.