If you are looking for a music instrument that combines easy learning feature with spiritual healing function,then you should not miss this steel tongue drum.This 14-inch steel tongue drum features standard 8 notes with a wider range of sounds. You can play some unique national music and also play chords for accompaniment.The nice tones make it easier for listeners to resonate.There are many ways to play the pan drum. You can tap it with your hands to get a gentle sound. And finger picks can help you play different sounds. Besides, the echo by playing with mallets will be more penetrating and more ethereal.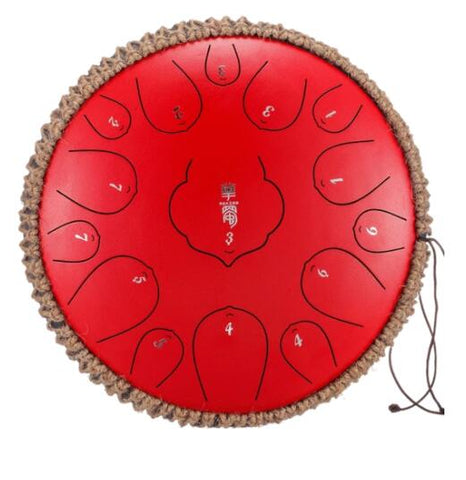 This tongue drum will emit pure and soothing notes, which will help relieve stress and enjoy peace and relaxation. It is widely used in music education, yoga practice, zazen, spiritual rehabilitation, religious activities and more.
High-quality Material: Made of premium high-carbon steel, this tongue drum is sturdy and abrasion resistant with good hardness. And it coated by protective spraying-paint, which is resistant to discoloration and scratches. With exquisite craftsmanship, this drum is durable for long-term use.
It delivers Buddha-like,clean and pleasant sound once you tap it with your hand or mallets. By the way, playing with mallets may be the first choice to beginners since using hand demands higher power and accuracy. Anyway, it is easy to master in short time thanks to distinguished notes and music book.Because of its unique sound, it is always used in yoga mediation, religious activity, mind healing and more, of which intention is to purify people's mind and relax mental tension. Or you can use it as a decoration in home, and its elegant appearance with beautiful lotus flower design will never let you down.