Steel Drum is also recognized as a musical instrument or percussion instruments, steel pans, or simply pans. Steel drums and pans are designed and created in the Caribbean island of Tobago and Trinidad. 
It is simple in structure,the sound is very pleasant and it is a kind of sound like Buddha's tones.This makes it easier to learn and has a wider range of sounds. Even beginners can easily master and play wonderful music. It is very suitable for children's music education so that he can play with ease and will not feel boring. At the same time, because its voice is very ethereal, it is also used in spiritual healing and yoga meditation and pretty helpful for calming down people's emotions.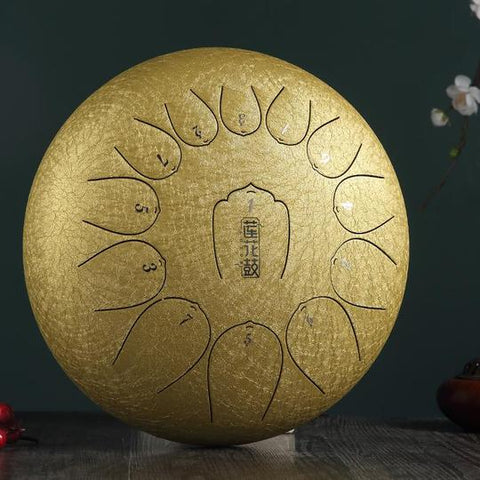 The tongue Drum is classed as a Hank or Steel Tongue Drum. This melodious percussion instrument is offered in three forms: The Single Drum the Double Drum and the Mini-drum. We believe that our drums are one of the best in its class in terms of sound quality, portability, note layout, durability and value for your money. 
The steel drum is hand-made by craftsmen, and the steel tongue drum is made of titanium alloy steel, which has better corrosion resistance and heat resistance. The drum body is full and round, and the drum surface sound tongue is shaped by lotus petals. It combines modern innovative design, craftsmanship, sound theory, simple shape and easy to carry. 
Tongue drum is a percussion instrument that is driven by the sound of the tongue to resonate the entire cavity. With drumsticks, the tongue is vibrated. After mastering the basic rhythm, you can strike a beautiful rhythm. There is no complicated music theory system, simple and easy to learn.
12-inch steel drum with 13-note standard C key has a wider sound range, allowing novices and professional players to easily play more different types of songs. The tone of the steel tongue drum is soft and melodious, and the tone is very stable. With the ethereal, pure and mellow drum sound, you can feel the relaxation and joy from the heart.