It delivers Buddha-like,clean and pleasant sound once you tap it with your hand or mallets.If you are looking for a music instrument that combines easy learning feature with spiritual healing function, then you should not miss this steel tongue drum.
By the way,playing with mallets may be the first choice to beginners since using hand demands higher power and accuracy. Anyway, it is easy to master in short time thanks to distinguished notes and music book. While 14 notes makes for wider range music than others.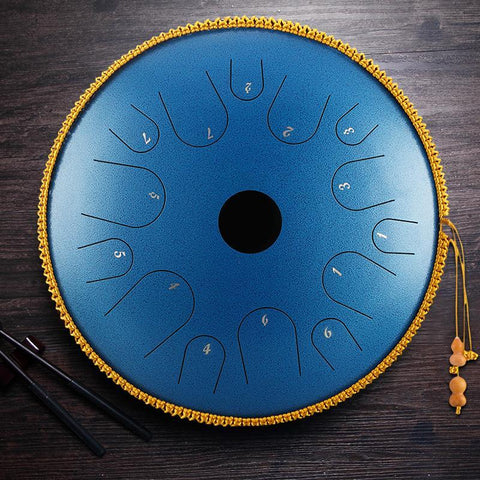 Because of its unique sound,it is always used in yoga mediation,religious activity,mind healing and more,of which intention is to purify people's mind and relax mental tension.Or you can use it as a decoration in home,and its elegant appearance with beautiful lotus flower design will never let you down. Meanwhile, it is made of high quality steel and coated with spraying paint, enabling excellent corrosion,scratch and fade resistance for longer life span.
Applicable to a variety of fields,including music education,mind healing,yoga meditation and so on. With a large number of musical scores,even beginners can play extremely pleasant music in accordance with the score.


The steel drum is handmade by professional craftsmen.Although it is simple in structure, the sound is very pleasant and it is a kind of sound like Buddha's tones. It is easier to learn and has a wider range of sounds. Even beginners can easily master and play wonderful music.No need for foundation,no need for talent, it is very suitable for children's music education, so that he can play with ease and will not feel boring.At the same time, because its voice is very ethereal, it is also used in spiritual healing and yoga meditation. It is very helpful to calm people's emotions.