A steel tongue drum is made from an empty (often 20 lb) propane tank. The tank is flipped over, the base cut/knocked off; and seven to eleven tongues are cut radially into the bottom of the tank, forming the top of the instrument. The tongues can be tuned by the player by varying the length of the cuts. The steel tongue drum is often tuned to pentatonic scales but can be tuned to the diatonic scale, the chromatic scale, or any set of notes the maker chooses. The instrument is played with the fingers or with mallets.
This 10-inch steel tongue drum features standard 8 notes with a wider range of sounds. You can play more songs and also play chords for accompaniment. The nice tones make it easier for listeners to resonate.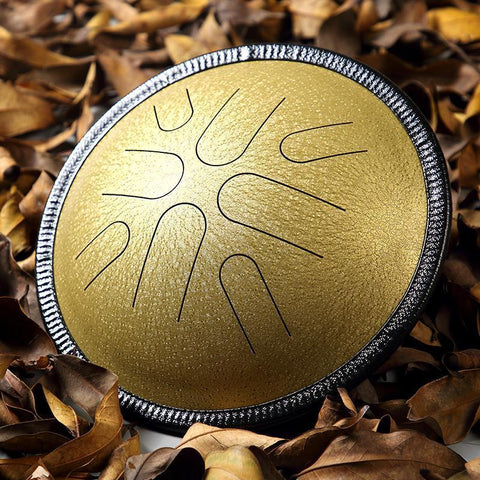 There are many ways to play the pan drum. You can tap it with your hands to get a gentle sound. And finger picks can help you play different sounds. Besides, the echo by playing with mallets will be more penetrating and more ethereal.This tongue drum will emit pure and soothing notes, which will help relieve stress and enjoy peace and relaxation. It is widely used in music education, yoga practice, zazen, spiritual rehabilitation, religious activities and more.
Made of premium high-carbon steel, this tongue drum is sturdy and abrasion resistant with good hardness. And it coated by protective spraying-paint, which is resistant to discoloration and scratches. With exquisite craftsmanship, this drum is durable for long-term use.
This tongue drum will be your best helper to relieve stress!Made of high carbon steel, this ethereal drum has good corrosion resistance to support your long-term use. Professional 11 notes allow you to play a variety of music. And it equipped with mallets and finger picks, so you can choose different ways to play. Music score and scale stickers can help you learn and use better. Ethereal sound will fully relax your mind and body!