Steel Tongue Drum,also called Lotus Drum, implies to be happy to forget sorrow. Hand-built, artificially tuned,and the tone is accurate and sound. When playing it , a clean, ethereal, Buddha-like sound will be reverberating in the air.Made of high-quality alloy steel material, The water-based paint surface, with fine finished surface, nuisance-free and wear-resistant and does not fade, delicate and corrosion resistant.High-grade steel material, strictly hand-tuned and precisely hand-cut, every tone is perfect.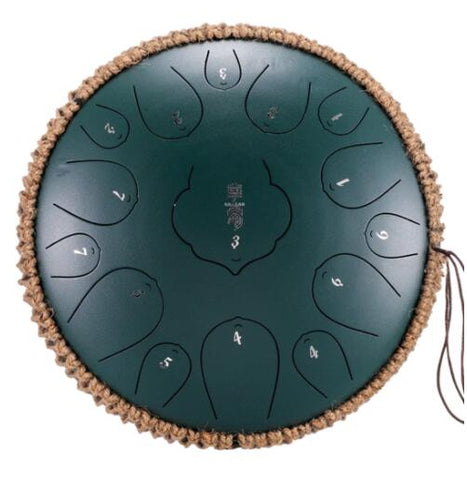 HLURU Huashu Alloy Steel tongue drum 
is a musical sculpture that combines the essence of Chinese thousand years of philosophy, religion, culture, art, music and national studies. It combines modern technology, sound theory and innovative design. It is a work of art, a musical instrument, and even of your mind mate.Perfect premium percussion musical instruments. Unrivaled handmade design with incredible attention to details. A steel tongue drum with clear, warm, balanced, wooden overtones and a unique "dry" sound without the kind of distortion and metallic tones produced by other cheap steel drums. 
Shape, depth, and dimensions of half-shell and petal placement are highly accurate and are the result of long-term mathematical calculations and experiments. It not only looks beautiful on the surface of the protective paint, but also prevents rust, wear and scratches.
The best steel tongue drum on the market right now. An affordable alternative to overpriced
handpan drums
. Great for easy beginners to play music gifts for which age.Applicable to various disciplines such as education.To music that has beautiful sounds to purify your mind and soul , Better. Comes with a travel bag for convenient transportation.