Professional Performance Carbon Steel Tongue Drum .Play it, forget your worries.The timbre is melodious, pure and empty. Easy to play, just using your hands or the included mallets to beat the drum tongues,then you will have melodious drums sounds.High-grade steel material,strictly hand-tuned and precisely hand-cut, every pitch is perfect.Comes with a carry bag for convenient transport, you can bring the drum with you wherever you go.
Great for personal meditation, yoga practice, zazen,music therapists, performances, religious activities, etc.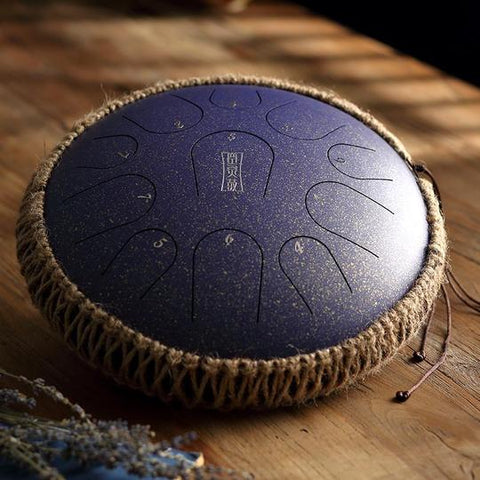 With antiskid and wear-resistant foot pads and can placed on the table smoothly without skidding,can make the operator easy to control.
You can play it with the included drum mallets or with you hands, and the included note enable beginners to learn and play it more easily.
No musical background is needed, just follow your heart to explore,and its ethereal sounds can purify your mind and soul,and makes you achieve inner peace.
Using hands or mallets.Playing it with hands demands higher standards of hands' power and more accurate tapping position, therefore using mallets is your first choice(especially for new).

The sound under the mallets will be more penetrating, purer and more ethereal. Holding the mallet 1/3 and tapping the middle of tongue head, you will get the prefect sound. If some "noise" comes out when you playing it, it is mostly caused by tapping incorrect location.
The tongue drum has a adequate range of sound,Suit for a variety of fields, such as music education, percussion concert, yoga meditation.

A sound stopper on the back can change the timbre of the Steel Tougue Drum. When sound stopper is installed,the timbre is fuller and deeper,the sustain tone is short, suitable for playing modern pop music.When the sound stopper is disassembled, the timbre is clearer, louder and longer, suitable for playing Chinese classical music.