The tongue drum has a adequate range of sound,Suit for a variety of fields, such as music education, percussion concert, mind healing, yoga meditation.A sound stopper on the back can change the timbre of the Steel Tougue Drum. When sound stopper is installed,the timbre is fuller and deeper,the sustain tone is short, suitable for playing modern pop music. When the sound stopper is disassembled, the timbre is clearer, louder and longer, suitable for playing Chinese classical music.
Using hands or mallets Playing it with hands demands higher standards of hands' power and more accurate tapping position,therefore using mallets is your first choice(especially for new).The sound under the mallets will be more penetrating, purer and more ethereal. Holding the mallet 1/3 and tapping the middle of tongue head, you will get the prefect sound. If some "noise" comes out when you playing it, it is mostly caused by tapping incorrect location.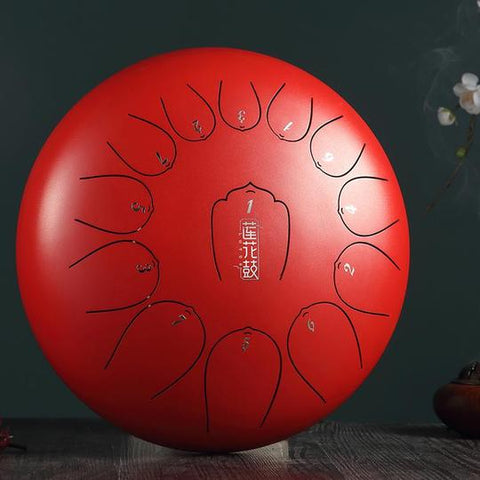 There are many ways to play the pan drum. You can tap it with your hands to get a gentle sound. And finger picks can help you play different sounds. Besides, the echo by playing with mallets will be more penetrating and more ethereal. By the way, playing with mallets may be the first choice to beginners since using hand demands higher power and accuracy. Anyway, it is easy to master in short time thanks to distinguished notes and music book. Because of its unique sound, it is always used in yoga mediation, religious activity, mind healing and more, of which intention is to purify people's mind and relax mental tension. Or you can use it as a decoration in home, and its elegant appearance with beautiful lotus flower design will never let you down.
The steel tongue drum widely used in religious activities,yoga meditation, early childhood enlightenment and physical and mental healing.