Huashu Alloy Steel Tongue Drum,constructed of Steel-Titanium alloy, coated by protective spraying-paint against tarnishing, scuffs, and scratches. Handcrafted by artisans, 14 notes tongue drum can produce a clean, ethereal, Buddha-like sound.14 inch 15 notes handpan drum has a total of fourteen sounds in C major. This makes it easier to learn and has a wider range of sounds and can play more music.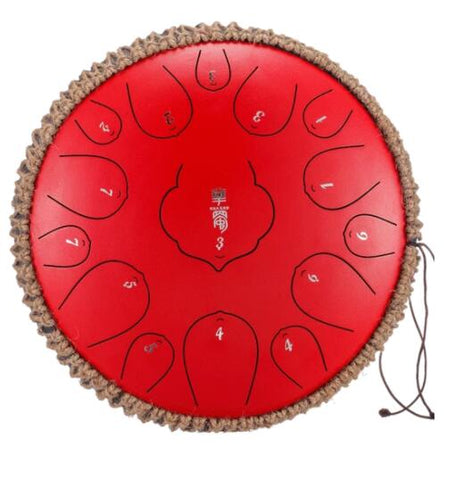 Beginners can learn how to play the Steel Tongue Drum in ten minutes by using textbooks and scale stickers.You can play 14 notes steel tongue with the rubber topped mallets included or simply with your hands. This tongue drum is more suitable for direct hand tapping. We hit it with drumsticks, the tongue drum sound will be slightly off. 
Dish shape steel tongue drum Great for personal meditation, yoga practice, zazen, music therapists, performances, religious activities, etc. Its ethereal sounds can purify your mind and soul and makes you achieve inner peace.
After the paint is formed, the second tuning is performed, and the intonation pitch is plus or minus five, so the tone is smoother and more pleasant, the volume is louder, and the tonality is more accurate. 


Although it is simple in structure, the sound is very pleasant and it is a kind of sound like Buddha's tones. Even beginners can easily master and play wonderful music. Suitable for children's music education so that he can play with ease . At the same time, because its voice is very ethereal, it is also used in spiritual healing and yoga meditation and pretty helpful for calming down people's emotions.