Professional Performance Carbon Steel Tongue Drum 14 Inches 14 Notes D Key is handmade by professional craftsmen.Although it is simple in structure, the sound is very pleasant and it is a kind of sound like Buddha's tones. It is easier to learn and has a wider range of sounds.Even beginners can easily master and play wonderful music. No need for foundation, no need for talent, it is very suitable for children's music education,so that he can play with ease and will not feel boring. At the same time,because its voice is very ethereal,it is also used in spiritual healing and yoga meditation.It is very helpful to calm people's emotions.
It is made of steel-titanium alloy steel drum,handcrafted with steel-titanium alloy, the steel tongue drum is also coated with water-based high quality paint that against tarnishing, scuffs, and scratches.And with non-slip rubber feet for stable support when you playing.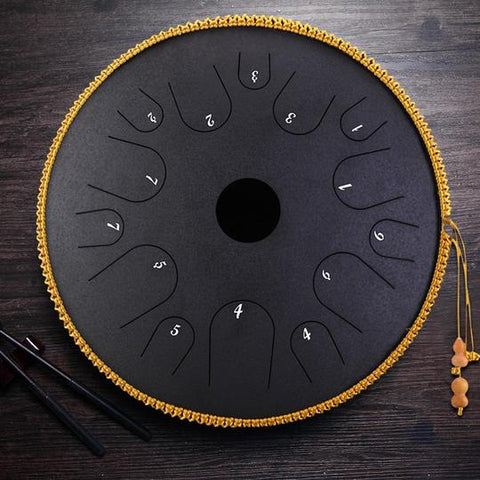 The Steel Drum is a nice present for children and the elder.Yoga Meditation, Mind Healing,Chakra Clearing,Psychological Therapy,Tea Zen,Performance, Religious Activities,Music Education,Confucianism and Ashram,Regimen, Buddhism,etc.For Leisure :Carrying out when camping and dancing around the bonfire.
Steel Drum with abundant and highly contrasting texture combines the timbre of Chime, Qing, Songbo (Traditional Chinese musical instruments), Guqin (A seven-stringed plucked instrument in some ways similar to the zither) and Zither. Learning to play tongue drum enhances musicians' imagination, concentration and memory, improves physical and mental health and makes you calm, optimistic and transparent. 

Easy to Carry
Comes with a free travel bag, you can easily carry the tongue drum for a variety of activities,including music education,mind healing, yoga,meditation, music therapists, religious activities and more.