Steel Tongue Drum 13 Inches 15 Notes D Key are made of new carbon steel material, which greatly improves the purity and stability of the sound quality, and has a natural range of 15 tones, which can be played in the most common tones, and the professional level.The surface of the protective paint not only looks beautiful but also prevents rust, abrasion, and scratching. The 3 rubber feet can prevent slipping, and make the drum sound brighter, crisper, and nicer.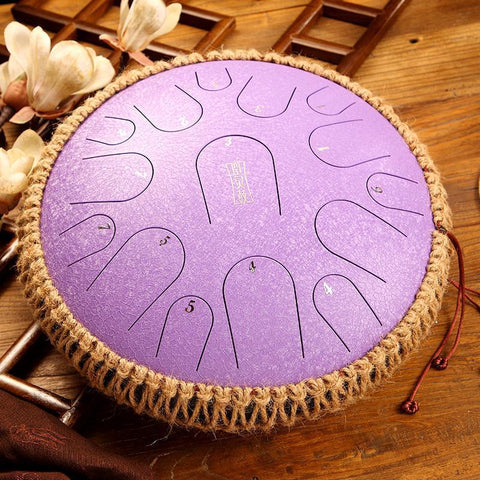 The Steel Tongue Drum is a collection of philosophy, religion, culture, and art, combining modern craftsmanship, sound theory, and innovative design. The powerful penetration of the popular handdrum is widely used in religious Buddhism, Confucian dojo, Zen tea health, yoga meditation, and physical and mental healing: music education, sound therapy, not only can express emotions, cultivate emotions, but also heal Body and mind, enhance spirituality, and discover the beauty of nature. 
The steel drum embryo body is placed in a closed high-temperature furnace, and ammonia gas decomposes to generate a large number of active nitrogen atoms. The steel drum surface fully absorbs nitriding, which effectively improves the hardness and wears- resistance.
The new retro handmade spot paint forms a protective film on the surface of the ethereal drum, which is not easy to be corroded, does not peel off, and the appearance is more beautiful and the service life is extended.