Steel Tongue Drum 11 Notes 12 inches lotus flower style. There are no wrong notes, you will be played enough beautiful overtones by Hitting with your hand or drum mallets.Protective lacquer finish guards against tarnishing, scuffs, and scratches.Silicone feet stabilize the drum's position during playing. Great for Camping, Yoga, Meditation, Music Therapy snd parties. And also can be used a interior decoration to make your indoor nice and cozy.
A total of 11 tones consisting of pentatonic scales, which have a wider range of sound and can play more music.No musical background needed, just bring a sense of exploration and yourself.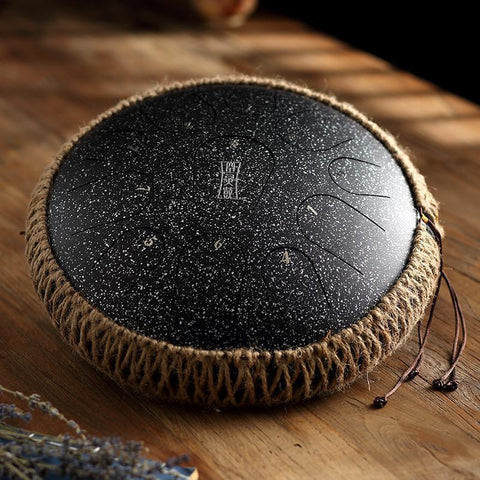 A tongue drum is a musical drum that has parts of the exterior cut, or slit, to provide for a certain sound when the user strikes a portion of the drum. Our drum is made of a metal steel. Its design features a round metal surface with C shaped cuts, providing for a variety of tones.Usually, the way a tongue drum is set up, striking various parts of the drum will provide different tones for the percussion.
The steel tongue drum excites the entire cavity thought the vibration of the tongue. Whether you are playing by hand or the drumstick, you need to control the strength, not excessive force or too lightness. When playing by drumsticks, please play with appropriate force and avoid rough operation for instrument concern.
Steel tongue drum are for everybody - musicians, music therapists, orchestras, hobbyists, amateurs and even kids! Very easy to learn!