The steel drum embryo body is placed in a closed high-temperature furnace, and ammonia gas decomposes to generate a large number of active nitrogen atoms. The steel drum surface fully absorbs nitriding, which effectively improves the hardness and wears- resistance. Electroplated spray paint forms a protective film on the drum surface, and the anti-corrosive coating is not easy to peel off. 
HLURU steel drum is handmade by professional craftsmen. Although it is simple in structure, the sound is very pleasant and it is a kind of sound like Buddha's tones. It is easier to learn and has a wider range of sounds. Even beginners can easily master and play wonderful music.No need for foundation, no need for talent, it is very suitable for children's music education, so that he can play with ease and will not feel boring. At the same time, because its voice is very ethereal, it is also used in spiritual healing and yoga meditation.It is very helpful to calm people's emotions.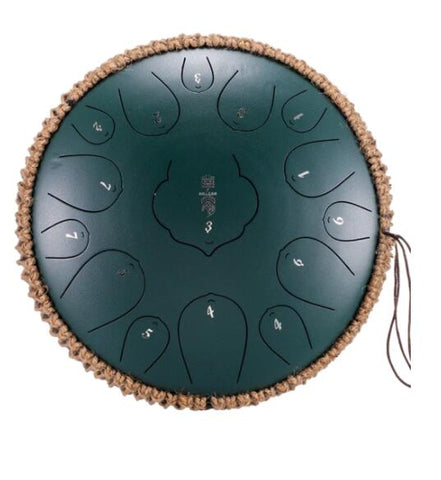 Playing a tongue drum can relieve stress and bring relaxation and peaceful energy into your life. Perfect tuning: 15 tongues are precision cut with lasers for perfect tuning, which have a wide range of sound and can be played with mallets or with your fingers . 
Steel tongue drum is a kind of art. Its ethereal sounds can purify your mind and soul and makes you achieve inner peace. It can be used not only for home decoration, but also for fetal education, children's early education, yoga, dance and many other scenes. 
Exquisite and elegant lotus bottom hole settings, not only has unique decorative features but can also allow a small amount of drum sounds to be expanded to avoid the knocking sounds that are too stuffy and the sound waves that are too chaotic. 
 You can play
Hangpan Drum 14 Inches 15 Notes
with the included drum mallets or with you hands, and the included note enable beginners to learn and play it more easily.