The sound of steel tongue drums is melodious, and the requirements for materials and sizes are very high. We use high-quality steel-titanium alloys, and the cavity of 13 inches and larger than 13 inches can meet the requirements of the quality and resonance of steel tongue drums,only to give you high quality sound of nature.
The Steel Tongue Drum is made from an empty propane tank. It has a resonant and mysterious voice, suitable for cinematic and ambient music. We recorded finger and mallet performances on the drum face, as well as multiple percussive hits on its back and sides.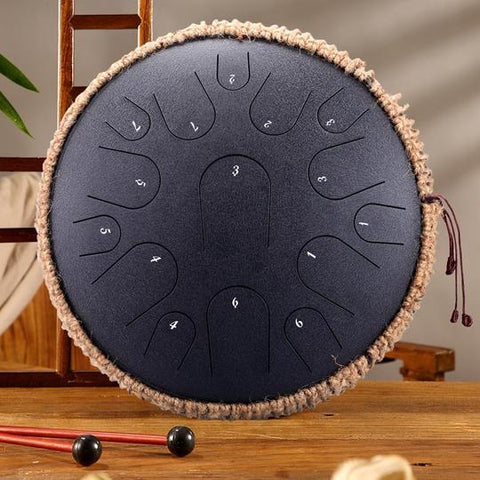 Steel drum are suitable for various fields, including music education, yoga meditation, zazen, performances, religious activities,gift and so on. Perfect for Adults to Relieve Stress , Children Toy. You can play steel drum with the included drum mallets or with you hands, and the included note enable beginners to learn and play it more easily,Steel drum comes with a carry-on bag for easy carrying.There are a total of 13 tones,which have a wider range of sound and can play more music.
Needless to say, the music instruments should be well protected for good maintenance, and that is the reason why the padded storage bag is provided. More, the carrying bag can bring more convenience if you want to carry the tongue drum set outside for a performance.
By the way, playing with mallets may be the first choice to beginners since using hand demands higher power and accuracy. Anyway, it is easy to master in short time thanks to distinguished notes and music book. While 13 notes makes for wider range music than others. Because of its unique sound, it is always used in yoga mediation, religious activity, mind healing and more, of which intention is to purify people's mind and relax mental tension. Or you can use it as a decoration in home, and its elegant appearance with beautiful lotus flower design will never let you down. Meanwhile, it is made of high quality steel and coated with spraying paint, enabling excellent corrosion, scratch and fade resistance for longer life span.