The tongue drum is super easy for anybody to learn and being skilled in play even those who with no musical background. You can perform wonderful music in 2 methods, using either hands or mallets. The former requires higher hand power as well as accurate tapping position while the latter is more beginner-friendly, ethereal and penetrating.
Delicately crafted with high quality carbon steel materials, the tongue drum shows perfect performance in delivering pure sound and providing longer service time. Additionally, coated with spraying paint, its surface features excellent corrosion resistance and scratch resistance, not easy to fade as well.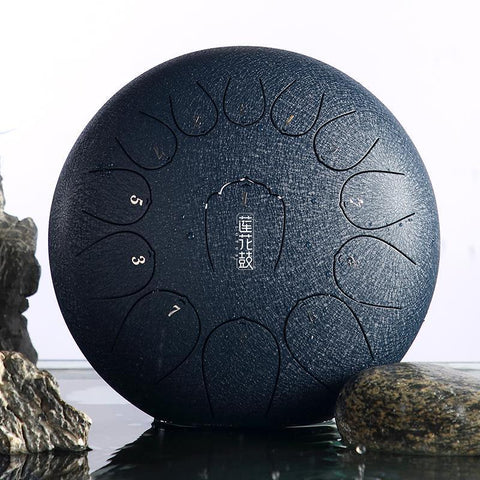 Steel Tongue Drum 12.5'' 13 Tone C Key,Clean Buddha-like sound can not only relieve your metal tension to calm down yourself but also purify your mind for soul healing. In this way, it is widely used in many occasions, such as yoga, meditation, mind healing, religious activities, etc. Meanwhile, it is suitable for music lovers of all ages from little kids to the older.
The tongue composes of 13 notes that is capable of working better than the 11-tones does. Plus, the lotus flower shaped tones through exquisite laser cutting craftsmanship adds aesthetic beauty to the tongue drum itself. It also comes with notes sticker to help you distinguish the note with ease.