The tone of steel tongue drum is ethereal and melodious, it can make people forget their troubles, thus broaden their minds and promote physical and mental health.
In traditional Chinese medicine psychology, music can infect moods and affect the body. In listening, let tunes, emotions, and visceral resonance interact to achieve the function of turbulent blood, smooth spirit and heart pulse. Physiologically, when music vibration and physiological vibrations in the human body (heart rate, heart rhythm, breathing, blood pressure, pulse, etc.) ) When they coincide, there will be physiological resonance and resonance, which is the physical and mental foundation of "five-tone therapy."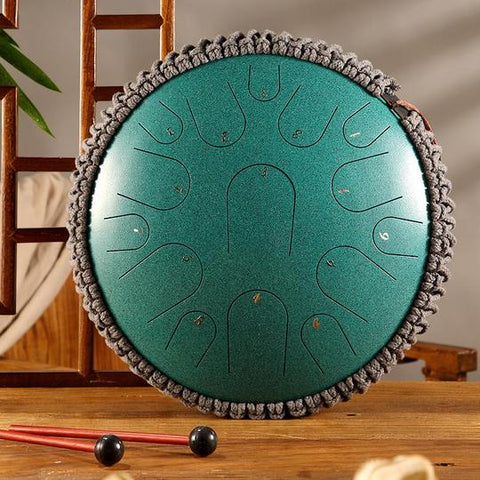 How to Play the Steel Tongue Drum
Usually there are 2 ways to play the steel drum: playing by hand or playing with the drum mallets. However, playing it with hands demands higher standards of hands' power and more accurate tapping position, therefore using mallets will be the first recommend choice(especially for new starters). When you are familiar with playing the steel drum, you can try to play with hand freely. And we offer 6 finger picks for you to have a better experience as well.
Steel tongue drum is handmade by professional craftsmen, they attach much importance to the meticulous cutting for accurate tone, so again, don't tune it before you are 100% sure you can do it. The steel tongue drum comes with highlight stickers for easier playing. And with non-slip rubber feet for stable support when you playing.
Steel tongue drum adopts titanium alloy as material, more strengthen, better corrosion resistance and heat resistance than carbon steel ones. Features in 8 notes standard major C key with a wider range of sounds, achieving new beginners and professional players to play more different kinds of songs. The tone of steel tongue drum is ethereal and melodious, and the timbre is very stable. Normally widely used for spiritual healing and calming down people's emotion.