Huashu Alloy Steel Tongue,with wider range,12 inch resonator it emits soul sounds make you relax, wider natural range of 13 tones,which could be played with most common tunes, works better than 11- tones-drum does.No musical background needed, just bring a sense of exploration and yourself. 
12 inch steel tongue drum not just a instrument but an art, emits pure, soothing notes. Playing a tongue drum can relieve stress and bring relaxation and peaceful energy into your life. Very good for meditation and Yoga.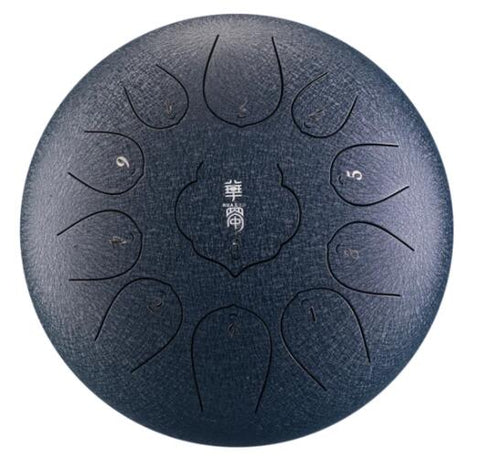 Tongue Drum 12 Inches 11 Notes can be played by hand or mallets. Playing it with hands demands higher standards of hands' power and more accurate tapping position, therefore using mallets is your first choice(especially for new). The sound under the mallets will be more penetrating, purer and more ethereal. Holding the mallet 1/3 and tapping the middle of tongue head, you will get the prefect sound. If some "noise" comes out when you playing it, it is mostly caused by tapping incorrect location. 
A world of musical, spiritual and educational opportunity awaits with this exciting drum set. Each set includes a 6-inch steel tongue drum, mallets, music book in English, convenient storage bag, note stickers and finger picks! 
t can uses as a unique gift: If you know someone who seems to have everything, you can be sure they won't have one of these unique Zen tongue drums! Both kids and adults will love exploring the possibilities with this multifaceted musical tool.