A tongue drum percussion instrument comprises a cylindrical shell,a circular tone plate and a plurality of fasteners.The cylindrical shell has a plurality of mounting posts extending from one edge surface.The circular tone plate is a flat metal plate provided with a plurality of tongues having a specific angle between the edges.
We recommend playing the Steel Tongue Drum with the pads of your fingers.A wide range of sounds can be created with different techniques. Playing by hand connects you with the Steel Tongue Drum in the way that traditional drums are enjoyed. We also supply each Steel Tongue Drum with mallets designed to bring out the pure sound of each note.
The plurality of tongues are different in length and extend inwardly from an outer peripheral edge of the flat metal plate.The tongues are separated by radial slits and have mounting holes arranged at the ends of the slits.Different lengths of open space is created between oppositely facing end faces of the tongues.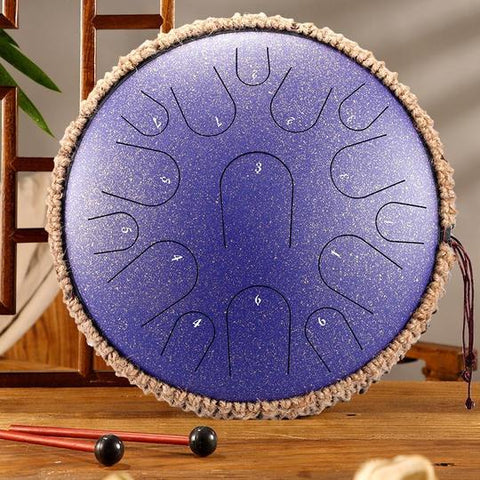 The Carbon Steel Tongue Drum is made of high-grade steel-titanium alloy material, strictly hand-tuned and precisely hand-cut,every pitch is perfect.No musical background is needed,just follow your heart to explore,and its ethereal sounds can purify your mind and soul,and makes you achieve inner peace. You can play it with the included drum mallets or with you hands,and the included note sticks enable beginners to learn and play it more easily.
Great for personal meditation, yoga practice, zazen, music therapists, performances, religious activities,etc.Comes with a carry bag for convenient transport, you can bring the drum with you wherever you go. Perfect for yoga and meditation.
The arrangement of the notes make going up and down the scale very easy. Also one hand can reach two or three notes simultaneously for chord playing. We have custom designed isolating rubber feet on the bottom of Steel Tongue drum. Set the drum on any surface and still get a great tone!