The steel tongue drum adopt titanium alloy as material,more strengthen,better corrosion resistance and heat resistance than carbon steel one.It coated by protective spraying-paint,which is resistant to scuffs and scratches.It has a standard D key with 14 notes.The timbre is very stable. You can play with the mallets and finger sleeve or just with your hand.follow the Music Book instruction,can use your creativity to hit your own favorite and happy sound.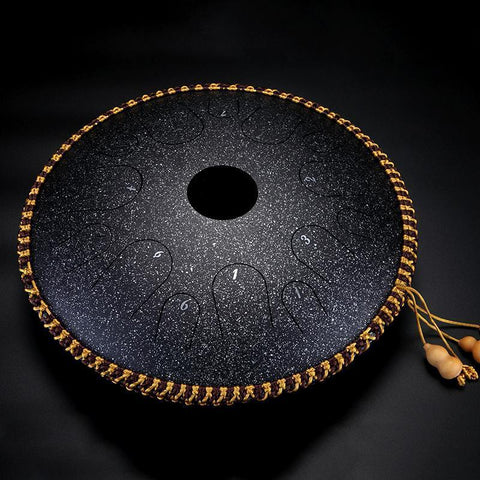 The steel tongue drum adopts titanium alloy as material, more strengthen, better corrosion resistance than carbon steel ones. Features in 11 notes standard major C key with a wider range of sounds.Normally widely used for spiritual healing and calming down people's emotion. Laser positioning cutting makes the tone more accurate and perfect.Shockproof silicone feet and the bottom of tongue drum is sealed,so the tone is smoother, the volume is louder,which can relives stress and bring relaxation to your life,increase the body's immune function. 
The sound of steel tongue drum is very ethereal.It is widely used in religious Buddhism,Zen tea health preservation,yoga meditation,physical and mental healing,music education,etc.What's more, it is very helpful to calm people's emotions.When you're upset,you can't get rid of depression.Play steel drum,enjoy the beauty of art,so as to get rid of the psychological constraints,let yourself feel relaxed and happy.