A tongue drum is a musical drum that has parts of the exterior cut, or slit, to provide for a certain sound when the user strikes a portion of the drum. Our drum is made of a metal steel. Its design features a round metal surface with C shaped cuts, providing for a variety of tones.Usually, the way a tongue drum is set up, striking various parts of the drum will provide different tones for the percussion
.The steel tongue drum excites the entire cavity thought the vibration of the tongue. Whether you are playing by hand or the drumstick, you need to control the strength, not excessive force or too lightness. When playing by drumsticks, please play with appropriate force and avoid rough operation for instrument concern.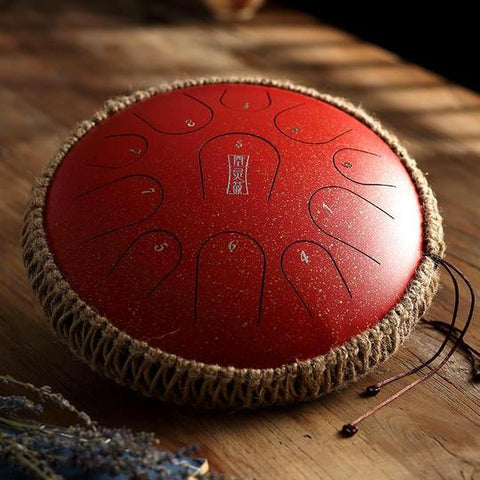 Steel tongue drum are for everybody - musicians, music therapists, orchestras, hobbyists, amateurs and even kids! Very easy to learn!Recommended for intermediate and advanced players. Beginners can still enjoy this drum, it just takes more practice to learn than our other models.The included instruction booklet has all the info you need to learn how to play.
After the paint is formed, the second tuning is performed, and the intonation pitch is plus or minus five, so the tone is smoother and more pleasant, the volume is louder, and the tonality is more accurate. Silicone feet stabilize the drum's position during playing. Silicone feet is shockproof. The bottom of tongue drum is sealed, so the tone is smoother, the volume is louder, and the tonality is more accurate.