Steel Tongue Drum are hand made one at a time using top grade german steel. This material has been chosen for both its ability to be worked by hand and its strength to hold the tunings. These instruments are built to last a lifetime. The Harmonic Art Handpan produces clear and pure notes when struck by the hand. The tone is pleasing, soothing, and relaxing and can be used in a variety of settings both for performance and therapy. Each one is tuned with a center note and seven additional notes allowing the player to work within a musical scale both as a solo instrumentalist and with a group."
Constructed of titanium steel alloy, coated by protective spraying-paint against tarnishing, scuffs, and scratches. Handcrafted by artisans, it can produce a clean, ethereal, Buddha-like sound and stable enough. Perfect for beginner.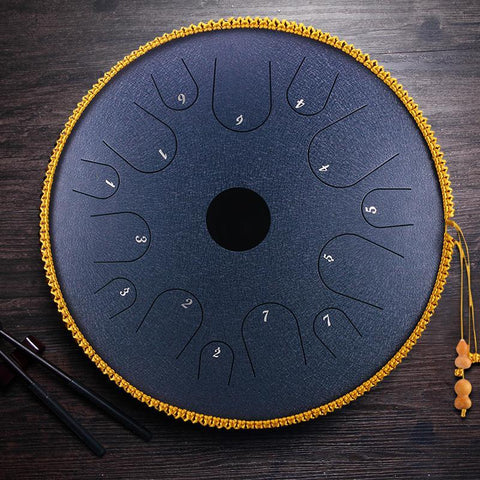 Beginners can learn how to play in 10 minutes by using textbooks and scale stickers. You can play with the rubber topped mallets included or simply with your hands. Laser positioning cutting makes the tone more accurate and perfect.Shockproof silicone feet and the bottom of tongue drum is sealed, so the tone is smoother, the volume is louder, and the tonality is more accurate. 
A Variety of Fields: Music education, mind healing, yoga meditation and so on. You can also give your children a steel drum as a musical instrument of enlightment. Small pan drum makes it easier to learn and has a wider range of sounds and can play more music. 
You can play steel drum with the included drum mallets or with you hands, and the included music scores enable beginners to learn and play it more easily. Comes with a carry-on bag, you can take it to everywhere with convenience.