Steel Tongue Drum 13 Inches 15 Notes D Key are made of high-grade materials, made of steel and titanium,after strict manual adjustment and precise manual cutting, it can produce a clean, ethereal, Buddha-like sound, which can reduce stress and bring relaxation to your life.
You can beat the steel drum with your fingertips to get a light sense of music, and you can play different sounds. In addition, the sound produced by tapping the tongue drum with a stick is clearer and fuller. Whether it is a beginner or a musician, it is easy to get started.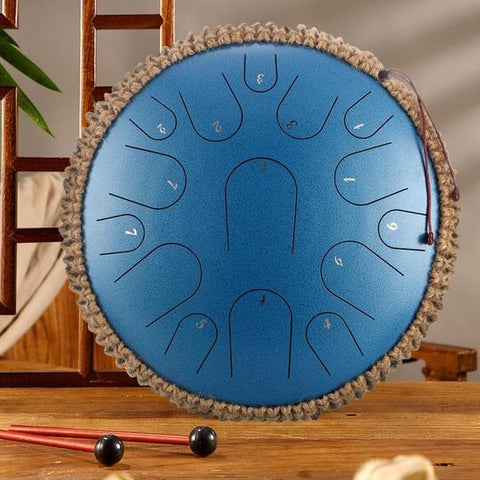 It is easy to play the Handpan Drum,while using the included mallets to beat the drum tongues, then you will have beautiful sounds.You can playing it with the included drum mallets or with you hands, and the included note enable beginners to learn and playing it more easily.The steel drum embryo body is placed in a closed high-temperature furnace, and ammonia gas decomposes to generate a large number of active nitrogen atoms. The steel drum surface fully absorbs nitriding, which effectively improves the hardness and wears- resistance.
The Steel Tongue Drum is a collection of philosophy, religion, culture, and art, combining modern craftsmanship, sound theory, and innovative design. The powerful penetration of the popular handdrum is widely used in religious Buddhism, Confucian dojo, Zen tea health, yoga meditation, and physical and mental healing: music education, sound therapy, not only can express emotions, cultivate emotions, but also heal Body and mind, enhance spirituality, and discover the beauty of nature.
The 15 note drums are processed by the annealing process to remove noise, and the pitch is about plus or minus 5 cents. It is not only suitable for ordinary entertainment, but also suitable for professional performance.