Professional Performance Alloy Copper Hand Pan Drum,made of new carbon steel material, which greatly improves the purity and stability of the sound quality, and has a natural range of 15 tones, which can be played in the most common tones, and the professional level. 
The surface of the protective paint not only looks beautiful but also prevents rust, abrasion, and scratching. The 3 rubber feet can prevent slipping, and make the drum sound brighter, crisper, and nicer. Sound quality ±5 cents, noise removal annealing process, reaching the brand name level. The range spans 2 octaves and is more suitable for professional performance, the tone is purer, bass, and treble resonance is better.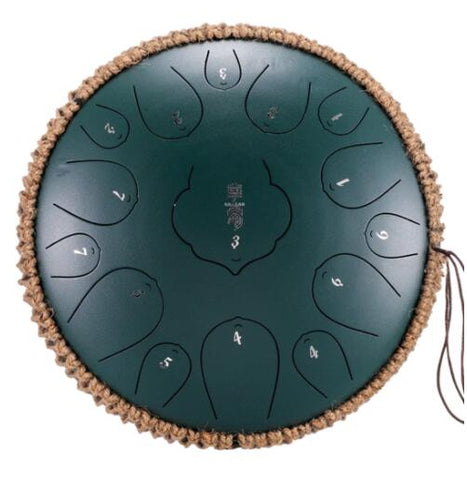 The Steel Tongue Drum is a collection of philosophy, religion, culture, and art, combining modern craftsmanship, sound theory, and innovative design. The powerful penetration of the popular handdrum is widely used in religious Buddhism, Confucian dojo, Zen tea health, yoga meditation, and physical and mental healing: music education, sound therapy, not only can express emotions, cultivate emotions, but also heal Body and mind, enhance spirituality, and discover the beauty of nature.
You can practice the tracks based on the Instruction. While mastering the basic playing methods and rhythms, you can make full use of it, play your own melody that is not the same as others, by following the inner rhythm.
When you are upset, you can't get rid of depression.Play with steel drum and enjoy the beauty brought by art, so as to get rid of the psychological constraints and make yourself feel relaxed and happy.