This Steel Tongue Drum is perfect for those who want to experience different scales with their tongue drum (Major, Minor, Pentatonic etc),to play in varied musical contexts or to make awesome easy recordings !It is equipped with an amplification system which allows it to be connected to an amp,effects,sound cards etc.and most of all it comes with an ingenious tuning system which allows you to switch from one scale to another in a few seconds only!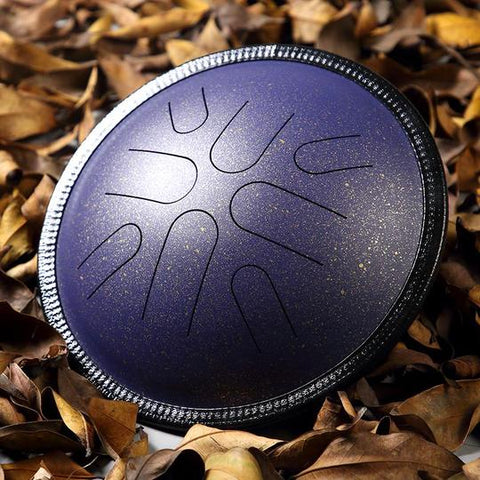 The tongue drum is a melodic percussion instrument that promotes self-expression through music.Its soft,relaxing and melodious sounds make it a popular instrument for music therapy and relaxology.Its handling is very easy and playful so that from the first try you can create melodies that will enchant you with their beauty.No worries to have while playing it as no false note is possible.You just have to let it go and enjoy the moment.
The Steel Tongue Drum is the first tongue drum where you can choose to play between 8 Notes in one tongue drum.The 8 Notes have been chosen with care so that you can have different melodies according to your moods.The Zen scale, for example, is perfect for meditative atmospheres while the Happy scale has warm and cheerful sounds.The transition from one scale to another is very fast and takes only a few seconds thanks to an ingenious tuning system.
You can also simply play it with your hands or mallets without anything else as no electricity is needed to make it work.Enjoy playing your tongue drum in nature, forest, in a live band with other musicians or in a music studio. Everything is possible and everything has been designed so that you can easily enjoy playing music and creating beautiful melodies even if you have never played a musical instrument before.