Carbon Steel tongue drum
 is a musical sculpture that combines the essence of Chinese thousand years of philosophy, religion, culture, art, music and national studies. It combines modern technology, sound theory and innovative design. It is a work of art, a musical instrument, and even of your mind mate.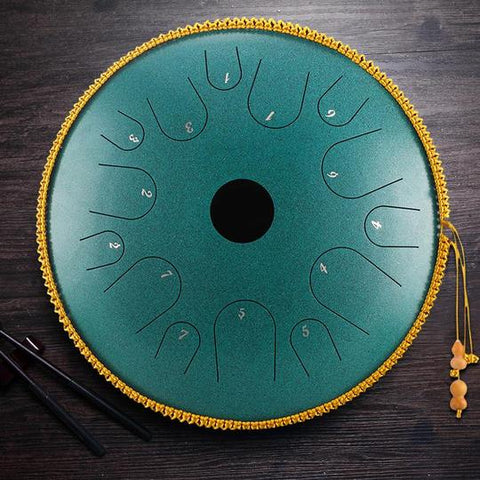 Question:
What key is it tuned to? Description says C major, but comments here say D, which is it?
Answer:
C major - no sharps no flats - also the coolest hand-drum i have ever played! it can be made to sound similar to steel drums, bongos, tablas, bells, trashcan, chimes, etc.

Question:
Is this drum difficult for beginners or children?
Answer:
This drum only has a basic scale to get started very quickly,you can buy kindergarten songs, starting from the simplest.

Question:
How big is the decibel from the drum and will it noisy neighbors?
Answer:
The decibel level of this steel drum is low enough to satisfy the needs of your hobby without disturbing the normal life of your neighbors.
Question:
Hi, what key and scale is this
tongue drum
in?
Answer:
The drum is tuned to the key of D Major. The notes, starting from low to high, with their corresponding numbers, are: Center #5=A, Larger #6=B, Larger #7=C#, Larger #1=D,2=E, 3=F#, #4=G, Small #5=A, Small #6= B, Small #7=C#, Small #1=D.