Steel Tongue Drum is a nice and special gift for friends, children, music lovers. Package includes: steel drum, mallets, english music book, bag, notes stickers, picks.You can beat the steel drum with your fingertips to get a light sense of music, and you can play different sounds. In addition, the sound produced by tapping the tongue drum with a stick is clearer and fuller. Whether it is a beginner or a musician, it is easy to get started. 
They are made of a titanium alloy made of steel, coated with protective spray paint to prevent tarnishing, scratches and scratches. Handcrafted by artisans, the 15-note tongue drum can produce a clean, ethereal, Buddha-like sound.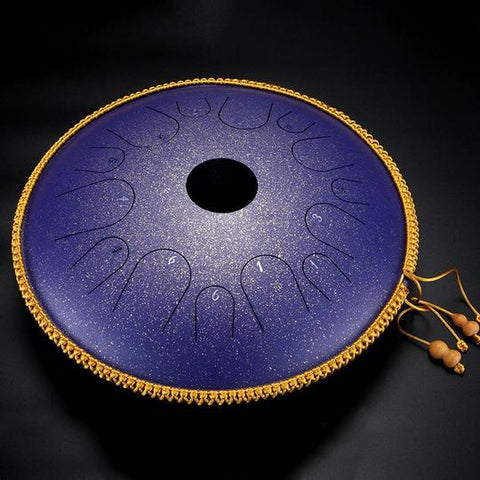 If you are looking for a good deal on hand pan instrument? Explore a wide range of the best hand pan instrument on hluru to find one that suits you! Besides good quality drums, you'll also find plenty of discounts when you shop for hand pan instrument. Don't forget one crucial step.
A tongue drum is a musical drum that has parts of the exterior cut, or slit, to provide for a certain sound when the user strikes a portion of the drum. Our drum is made of a metal steel. Its design features a round metal surface with C shaped cuts, providing for a variety of tones.Usually, the way a tongue drum is set up, striking various parts of the drum will provide different tones for the percussion.