Steel Drum is also recognized as a musical instrument or percussion instruments, steel pans, or simply pans. Steel drums and pans are designed and created in the Caribbean island of Tobago and Trinidad.Constructed of Steel-Titanium alloy, coated by protective spraying-paint against tarnishing, scuffs, and scratches. Handcrafted by artisans, 14 notes tongue drum can produce a clean, ethereal, Buddha-like sound.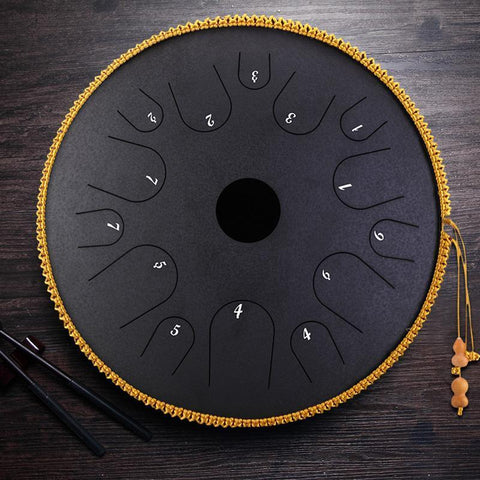 Steel Tongue Drum has a total of fourteen sounds in C major.This makes it easier to learn and has a wider range of sounds and can play more music.Our 14 notes hand pan drum is handmade by professional craftsmen. A total of 14 tones consisting of pentatonic scales, with a large number of musical scores, even beginners can play extremely pleasant music by the score. 
Playing it with hands demands a more accurate tapping position, therefore using mallets is your first choice. The sound under the mallets will be more penetrating, purer, and more ethereal. 
This tongue drum with a C major 14 note is handmade by professional craftsmen. Although it is simple in structure, the sound is very pleasant, and it is a kind of sound like Buddha's tones. Even beginners can easily master and play wonderful music. Suitable for children's music education so that he can play with ease and . At the same time, because its voice is very ethereal, it is also used in spiritual healing and yoga meditation and pretty helpful for calming down people's emotions.