Many people enjoy listening and playing music that creates them feel uplifted. Various sorts of music invoke different feelings in us: the sound of a harmonica playing on a boardwalk, the melody of a saxophone playing within the terminal , church bells ringing on a Sunday morning, or the serene and relaxing sounds of hang drums on the road of a busy city.
The tones generated by this tongue drum provide healing from stress,depression and most forms of sadness. And including music education,mind healing, yoga meditation and so on. The shape, depth, and dimensions of the half-shells and the placement of the petals are highly precise and are the result of long-term mathematical calculations and experimentation. The surface of the protective paint not only looks beautiful but also prevents rust, abrasion, and scratching. 
It is simple and easy to learn, with notes on the drum surface and a bonus mallets, you can use the drumsticks or fingers drumsticks to play the tank drum, follow the notes on the mallets, and through simple practice, you can play a beautiful melody, suitable for beginners even little kids, good use for children's music enlightenment.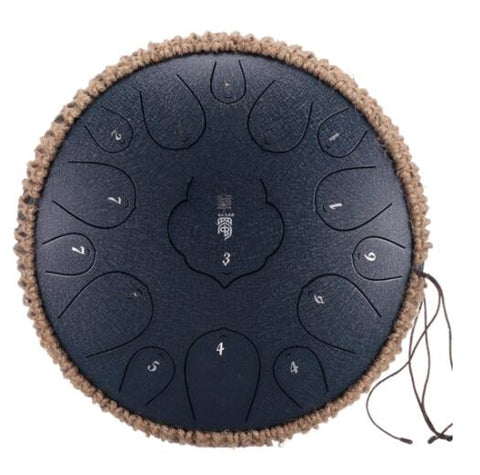 This handpan drum surface adopts electroplating spray paint technology to protect it from erosion /rust/scratches and durable for long time use, 3 shock-proof silicone feet and the bottom of the tongue drum are sealed for cleaner sound and louder volume. 
When taking note of the various different pings from a hang drum, and hearing how they seamlessly blend with each other , the mind becomes more active. Studies acknowledge the powerful effects of music on our body and mindset, as taking note of music has an impact on many various parts of the brain. taking note of music can motivate, facilitate creativity, and clarify your thinking.