Hand Pan Drum D-Key 22 Inch 9 Notes,with highly rust resistant,hard case perfect for traveling,shipping or storing.Equipped with a case,which has a simple and convenient double-hinge design,made of 20 mm impact resistant cotton,it protects the pan safely.All notes have a perfect resonance vibration, each note is controlled with a minimum possible fluctuation of the tuner.
Being the latest concept musical instruments,the steel drums do not require complicated musical theories or musical rudiments.They can be played with the wand or with bare hands,beating,beating or clapping,without a fixed background music.you can play the drums with a lot of improvisation and every time you could do different performances, even on the same song.Not only do they increase our passion and our ideal,they also improve physically and mentally and enhance spirituality.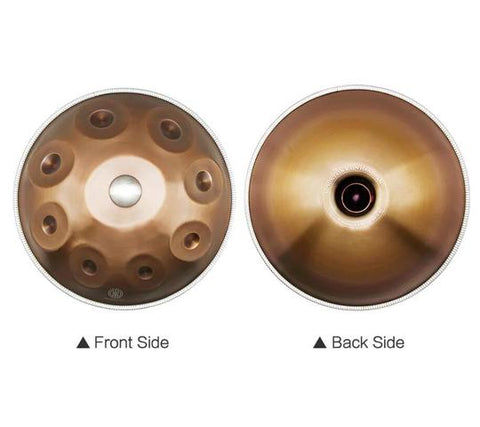 The Hand Pan Drum is suitable for Everyone,suitable for men and women,young and old,with no gender or age limits.It is widely use for many occasial,Ideal for street performances,festival celebration, friends & families gathering, etc and also applies to prenatal education and early childhood education.All notes have excellent resonance vibration Each note checked with a tuner minimum possible fluctuations.Generally played with the hands and fingers, producing softer and warmer sounds.