Hand Pan Drum is made of heavy-duty nitrided steel. and the edges are coated with protective plastic. After heat treatment, the surface is covered with different colors and textures to prevent rust, scratches and scratches. The color of this Wide Range handpan drum is pollution-free and doesn't fade. 
Hand pan in D Minor 9 notes, including 1 center note and 8 tone fields, D3-A3\bB3\D4\F4\A4\G4\E4\C4\A3background needed, just bring a sense of exploration and yourself.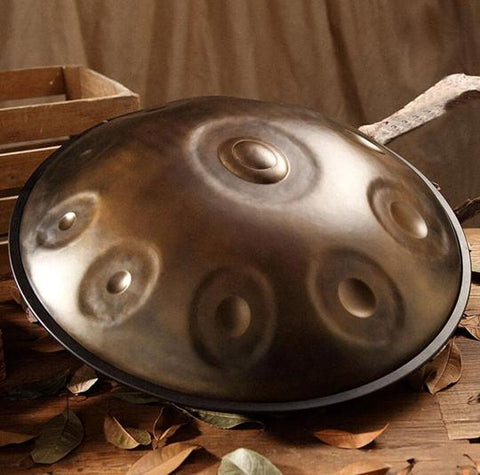 Comes with a free travel bag, you can easily carry the tongue drum for a variety of activities,including early childhood education, home decoration, personal meditation, yoga practice, zazen, music therapists, performances, religious activities, etc. Its ethereal sounds can purify your mind and soul and makes you achieve inner peace. 
When you play the handpan drum you will feel the sound of the origins which will purify your mind and soul. You will explore yourself more deeply. And you will achieve inner peace. This sound is pretty helpful for calming down your emotions. 
Hand pan is a musical instrument in the idiophone class. The material is nitrogen steel, which can maintain a long-term pitch and has sensitive touch points. The periphery is wrapped with rubber strips to protect the edge of the hand pan; the circular hole at the bottom is made of Hai Mholtz principle design, but also play the role of tuning, A great choice for street performances, festival celebration, friends & families gathering, etc.