Hand Pan Drums are made with craftsmanship of philosophy, religion, culture, art, and are special blend of contemporary science and technology, vibration theory and novelty designs. Their music is delicate, elegant, with the flavor of Chinese traditional musical instruments, such as chimes, guqin, guzheng, and modern hand drums with strong penetrating power.Steel tongue drums are broadly used in religion as Buddhism,Confucian,Zen,yoga,Zen Tea,Music,and Sound Healing.
They not only enhance our passion and ideal, also heal physically and mentally, and exalt spirituality and restore our natural beauty. Steel tongue drums are of rich tones, which clean the spirit with powerful penetration. When attentive playing with the handpan drum, you keep same pace breathing with drums' sounding. While you are concentrating on both body and mind, it takes you naturally into extreme peace and equilibrium, awakening you to deep sensations on the sound your soul. In such a wonderful state, you are restored to where you originally should be, with the soul mate together.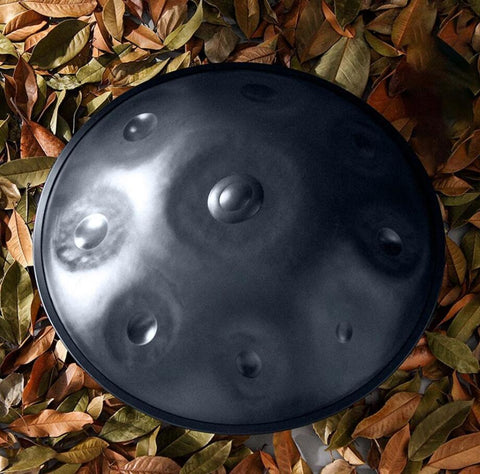 The handpan drum is made by two half-shells of deep drawn, with hollow inside and in the shape of a convex lens.Constructed with carbon steel material for durable and sturdy. Wide Applicaiton.Suitable for street performances, friends gatherings, light music appreciation, prenatal education and early childhood education.
The percussion methods are different in treble, midrange, and bass. Bass lightly taping, midrange need taping it smoothing and the treble need to tighten your wrists and put forth your strength properly.All notes have excellent resonance vibration Each note checked with a tuner - minimum possible fluctuations. Generally played with the hands and fingers,producing softer and warmer sounds.