Water-based environmentally friendly paint which is pollution-free and does not fade.Made of Stainless Steel dull polish,Handcrafted by artisans, it can produce a clean,ethereal sound.Perfect premium percussion musical instruments. Unrivaled handmade design with incredible attention to details. A steel tongue drum with clear, warm, balanced, wooden overtones and a unique "dry" sound without the kind of distortion and metallic tones produced by other cheap steel drums.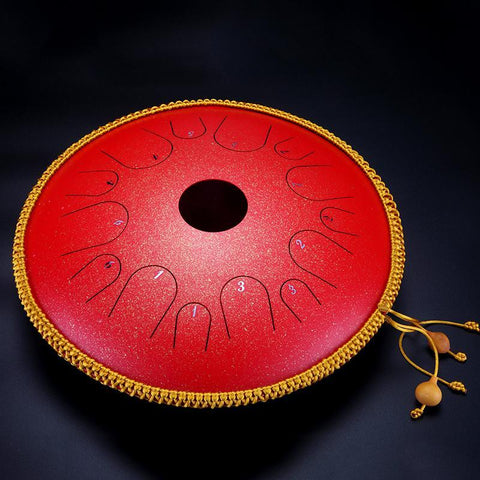 The best steel tongue drum on the market right now. If you know someone who seems to have everything, you can be sure they won't have one of these unique Zen tongue drums!
The timbre is melodious, pure and empty.Easy to play, just using your hands or the included mallets to beat the drum tongues, then you will have melodious drums sounds.High-grade steel material,strictly hand-tuned and precisely hand-cut, every pitch is perfect.Comes with a carry bag for convenient transport, you can bring the drum with you wherever you go.
Great for personal meditation, yoga practice, zazen,music therapists, performances, religious activities, etc.With antiskid and wear-resistant foot pads and can placed on the table smoothly without skidding,can make the operator easy to control.
You can play it with the included drum mallets or with you hands, and the included note enable beginners to learn and play it more easily.
No musical background is needed, just follow your heart to explore, and its ethereal sounds can purify your mind and soul, and makes you achieve inner peace.